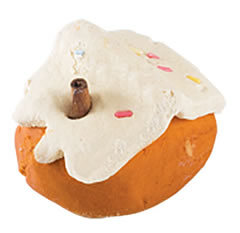 One of my absolute favourite things to do whilst shopping is pop into Lush and pick up a bubble bar or two. It's like a little treat for my hard day shopping!
Haha
.
But seriously I love a bath, and although I like the excitement (ooh
ahh
, they are so pretty when they fizz) of a bath ballistic, I am a bubble girl at heart.
The last few times I've been into Lush I've noticed the
Christmas
holiday collection, but never really looked twice, I guess I prefer fresh smells and Christmas
fragrances
don't really fit into that
category
. However, the Gingerbread House bubble bar caught my eye. The few times I've seen it a stack of them always seems to be left on the stand. A little bit dodgy looking with a wonky cinnamon chimney and some unevenly
scattered
candy pieces, I too am guilty of leaving it on the shelve.
Not this time I thought.
I am so happy with my new home. I split it in two (seriously, one whole bar produces a lot of bubbles, no one needs that many) and used it last night. It filled my house (brick, not gingerbread) with a lovely spicy scent. It softened my skin and the other half sitting in my draw is doing a good job of making my room smell lush too!
So I
implore
you, ladies and gentlemen, give a house a home!